Trends for terraces 2022
We take advantage of the beginning of the good weather to highlight the trends for terraces that from the studio we highlight for 2022. Coblonal interior design gets wet, and by the way, it cools down, pointing out what are going to be the trends for our terraces, balconies, and gardens next summer.
Style
The Mediterranean style with bohemian touches especially stands out. We can characterize it by the use of materials such as terracotta, natural stone, stucco, or natural fibers. It seeks to return to tradition and transfer the Mediterranean essence to its purest and most essential aspect. Without artificialities, 100% authenticity
Colors
The colors that are worn are, above all, earthy tones (sand, stone, broken white…) contrasted with reddish or orange colors. For this season, the aim is to reinvent the color scheme and the texture of the materials: twill linens, without silicone or pure cotton with the minimum possible trimmings. The trend is to highlight the characteristics of the material itself and its minimal manipulation so that it maintains its raw and natural appearance.
Furniture Materials
The star materials for furniture are a combination of wood and rattan. However, we must avoid combining these materials in furniture with excessive curves and overly exotic reminiscences. We are committed to a more contemporary and sober aesthetic. We have always been more drawn to straight lines for the structural elements of the furniture and to combine them with natural fiber fabrics that add wrinkles, imperfection, and complexity to the whole. The charm of a piece of furniture is in the way of recreating these contrasts in the combination of materials and shapes.
Consistently and in complement with the previous materials, we mention bamboo, which also offers great durability. The grid is more delicate but very comfortable and cool for the hottest months. And the rope, which can be found both in the design of pieces of furniture, as well as in chairs and armchairs.
The rope also offers us other applications, as it is a fantastic option for the creation of false ceilings or exterior latticework. The rope is a very good option to achieve extra warmth and a natural look, also gaining a play of light and shadow, nuanced by sunlight.
Floors
We find different options, but without a doubt, one of the options to take into account today is terrazzo. A material that offers many possibilities at a chromatic level. Custom pieces can be designed and included in other elements beyond the pavement and can give a lot of play to any project, becoming a characteristic piece. In this sense, we are in love with the designs and pieces of Huguet Mallorca.
Illumination
A very good option to illuminate terraces can be the use of mobile lights that can be adapted to any space and moved from the interior to the exterior. We also really like the use of garlands with visible filament bulbs, due to the festive effect it generates. Both in the mobile and in the hanging we like the effect of provisionality that this type of luminaires generates, open to things happening.
Pots matter
We claim the importance of pots, often taken as something minor. We love the terracotta ones in textured, terrazzo, or concrete finishes. In this way, we take the presence of plants for granted and highlight how we present them as a fundamental decorative element on any terrace.
The cozy touch
Textiles are essential to give a cozy touch to any terrace. The difficulty is in finding cushion covers or plaids made of pleasant materials despite being designed to survive outdoors. Otherwise, we must provide a small space with easy access to store those pieces that we cannot forget outdoors.
As a counterpoint, we can also include some elements of water. You do not need to have any source for this. We can look for clear glass vases, fill them with water, and place floating candles. The hypnotizing effect of the undulating fire and water seems to us to be a combination capable of generating a most welcoming environment.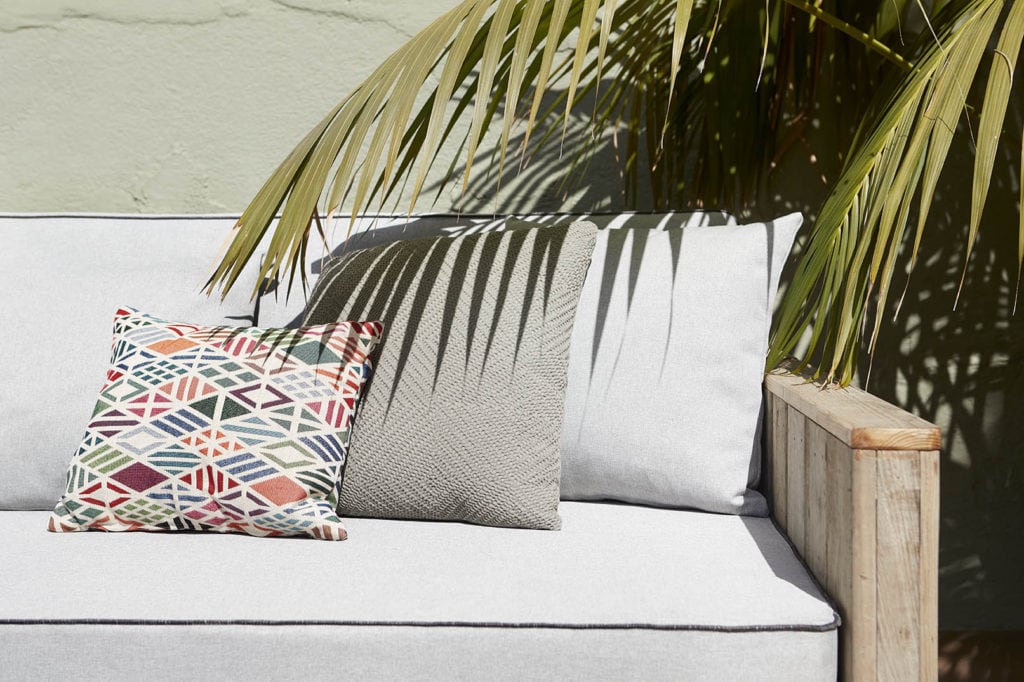 Distributive elements
So that a terrace is not soulless, it is essential to introduce distributive elements that zone the space. Furniture, such as tables or armchairs, is essential in this task, but we can reinforce it with the use of outdoor rugs.
Nowadays, there are rugs specially designed for outdoors, which do not deteriorate with changing temperatures or with humidity, since they are made of materials that allow good drainage and dry quickly.
They will have very limited durability. For this, we can think of rugs made from recycled plastic. We really like those that have been developed and designed by brands such as Rols or Papiol, with a very natural appearance and far from synthetic. In addition, we give a new and long life to limited-use plastic waste. The resistance of these rugs is enormous.
We hope that our list of trends for terraces, patios, and gardens will serve as inspiration to take advantage of your terraces. At Coblonal interior design, we are at your disposal to help you turn the exterior of your home into a space where you can enjoy good weather in the best conditions.