The importance of order at home and tricks to achieve it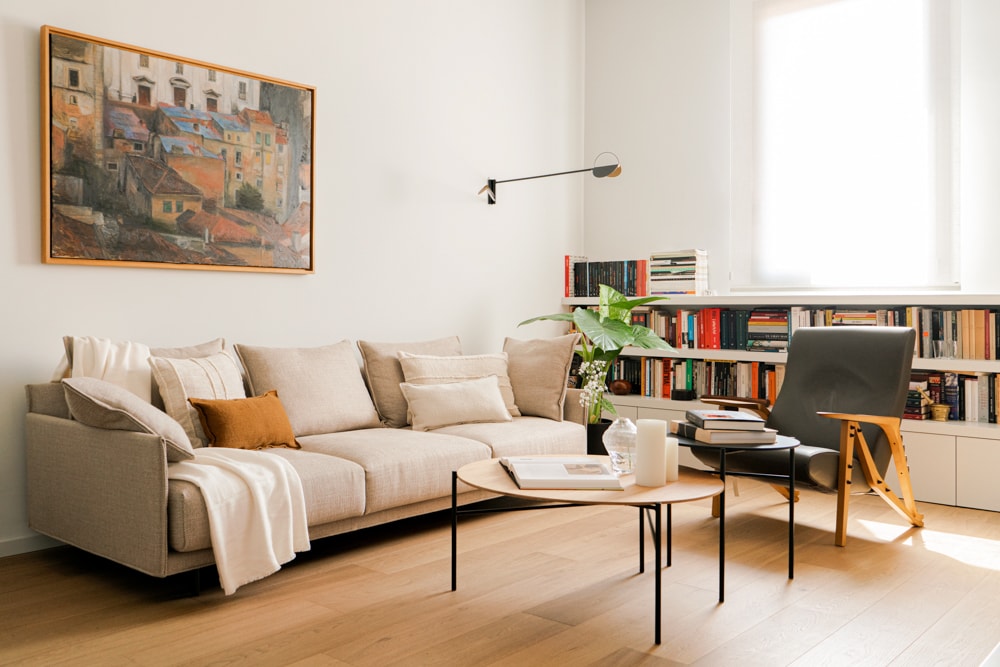 Having an orderly environment is a source of satisfaction. Arriving home and finding your home in perfect condition is an ideal scenario, but also unusual for the majority of the population. Either we have an unbreakable discipline that makes us leave home with all the tasks done and everything in its place or we have someone who cleans and tidies in our absence.
In any case, dwelling entails, to a greater or lesser extent, disordering and ordering continuously. If we go shopping, we must store what we have bought somewhere, if we cook we must clean the kitchen, if we change the wardrobe, if the little ones in the house play with their toys, if we do the laundry…
To this endless task, we can add another maxim that complicates everything a little more. And it is that the measure of order is always relative. In this sense, we could establish different borders between people. Likewise, throughout our lives, we also modify our perception of what is or is not sufficiently organized. We got used to other abutments lower than ours, which at first drove us crazy. Or we make our levels of demand that we would never have dreamed of.
Be that as it may, having some useful tricks to maintain order at home never hurts. The way of seeing things in interior design can make things easier for us and provide fundamental tricks to achieve it.
Simplicity and balance
The first of them is of an overwhelming logic: the fewer things we have to order, the easier it will be to maintain order. The truth is that having few things makes it easier for them to be where they are expected and to maintain order. Minimalism would be the most representative vital and aesthetic current of this principle. But this does not mean that it is the only option. We often confuse order with simplicity. Well, we can have a multitude of perfectly ordered objects, arranged by size, colors or typology. Maximalism would be the opposite current. A multitude of objects, colors and textures that some would say manage to distract and blur the line between order and disorder. In our opinion, simplicity helps and is a good fundamental principle or trick to maintain order, but it is not an essential condition and we can achieve order in complex environments by establishing a criterion and balance in the set of elements.
A space for clutter
As we have mentioned, it is very difficult to live in a house and that everything is always in review, ready to receive visitors. For disorder appears incessantly as a direct consequence of dwelling. Thus, it would be fine to assume that order is very important, but so is disorder, since it is a consequence of doing things. What good is a home if we can't use it naturally.
What we have to achieve is that the disorder inherent in living has its specific place and that it does not distort the whole.
For example, laundry clothes are one of the elements that tend to generate a certain appearance of disorder. The laundry cycle (to wash, wash, dry, fold and put away) requires your time and space. To avoid its impact on the order of the house, it is necessary to provide a dedicated or circumstantial space, whether in the living room, kitchen or a room. The important thing is that we anticipate what, how, when and where it is going to happen and not have to continuously adapt to the environment. There will always be exceptions that we will have to deal with, but if the disorder has its own space, it will be controlled, leaving the rest of the spaces aside.
Storage
Having enough storage is essential to maintain an orderly environment at home. For this we must make a good forecast of the necessary storage and the optimal spaces that the structure and distribution of our home allows us. This conjunction is often not obvious and that is why our work as interior designers focuses largely on remedying a specific briefing from our clients for specific space and budget conditions through the distribution and design of custom-made furniture.
In accordance with the previous advice, we recommend combining open and closed storage options where the objects that we want to display look appropriate and everything that we should store but do not want to display has its place. For example, we like that our collection of books and some curious figure are visible, but it is not necessary that the router box and the notes of the last training we have attended are.
A collective plan
A house is like a ship. We need the entire crew to know the mission and fulfill their role. If one part of the crew does not collaborate, the mission is in jeopardy and another part of the crew will have to take on more work and deal with the added inconveniences.
It is important to make the whole family jointly responsible for the endless task of maintaining a certain order. But it is even more so that everyone knows the mission and that certain roles are established. The ideal is to establish an ideal image to reproduce, a standard that serves as a reference of normality to tend to. In this way, any alteration can be detected and restored. If we also make some of the members responsible for specific tasks, we achieve greater efficiency although we also run the risk of generating conflicts. For this, it is good that someone assumes a coordinator role and can reassign roles and detect if someone does not adequately fulfill their functions. And most importantly, remind the rest of the reason for being, the benefits of living in an environment with a certain order and balance.
In any case, no matter how adequate our home may be to maintain order, whether it is with custom storage, spaces for clutter or simplicity as a principle, it is essential to share objectives with the people we live in.
The interior designers take care of designing this final image and the best conditions to make it possible. In that we can help you, maintain it, it is your task.