The bathrooms of the future
What trends can we find in the field of bathrooms in residences or commercial or professional facilities? What role does technology play in the functionality of a bathroom? What parameters guide our designs? What will the bathrooms of the future be like?
Searching for a unique bathroom
Every project is different. We always say that the proposal resulting from each project is the conjunction of a unique formula for each project composed of at least five variables:
location
site
briefing
customer profile
budget available.
For example, if it is a bathroom for a rural or urban home, in one town or another, or for offices; a small or large bathroom, next to a bedroom or accessible from the corridor, with ventilation to the outside or forced; with one or two sinks, bidet, shower or bathtub, for exclusive or shared use; for a law firm, a young couple or a married couple of a certain age with children already emancipated; modern, classic, rustic or with an adequate or very limited budget.
The variables are unique for each project and for us it is essential to adapt each project to these variables. It is evident, reviewing our work that we do not follow a book with a very marked style of our own, but that it precisely amuses us to reinvent our proposals based on the factors mentioned. This makes our work more fun, always facing it as a new challenge.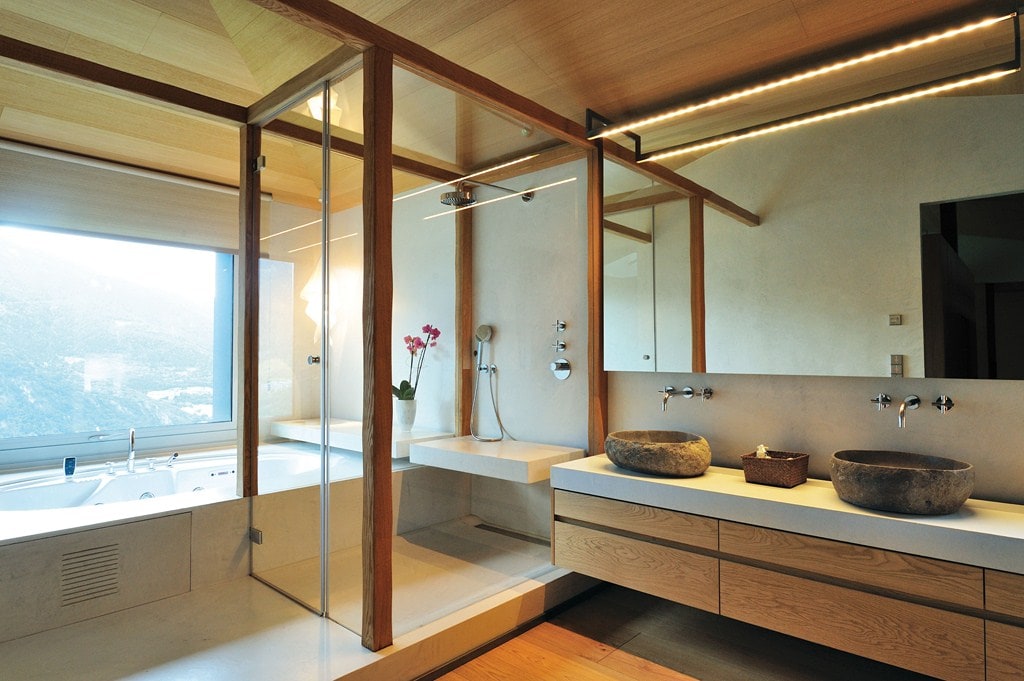 The bathroom as a vector to improve the quality of life
It is historically undeniable the improvement in the quality of life that the inclusion of the bathroom in domestic homes has meant for humanity as a whole. Not so long ago, in our immediate surroundings, a bathroom similar to the one we all have today was a luxury available to very few. But even in our current scenario, we believe that it is possible to go further by harnessing the potential of the bathroom in relation to a source of quality of life.
Years ago we introduced the concept of the "living bathroom", as a space in our homes where you can take care of yourself and relax beyond the strict hygienic and physiological functionality. In our projects, we always try to reconstruct the idea of ​​the bathroom that our clients have towards the inclusion of daily practices related to self-care. And it is something that does not require exceptional conditions.
For example, a bedroom suite distribution, in connection with the bathroom, allows us to combine both rooms in a single, larger space depending on the use of the moment. In this way, without the need for extra elements, we can use the bathroom as a small domestic spa where we can disconnect from the hustle and bustle of the working day when we get home. If we also have space and a budget, the current possibilities in this regard are enormous.
Technology applied to the bathroom
We have at our disposal a multitude of technological advances that allow us to take this experience of self-care to levels unthinkable a few years ago. We have taps with programmable temperature and pressure control, nebulizers even with aromas, options to apply chromotherapy or different lighting scenes depending on the moment, seeking activation or relaxation. As for the toilet, the options that incorporate personal hygiene in the Japanese style, are becoming more common in our environment, we also have aerators and filters that substantially improve what is desirable. Regarding air conditioning, we highlight the appearance of heated mirrors and meshes for the installation of exclusive underfloor heating for the bathroom, where their heat provides comfort and a reduction of condensation on their surfaces.
Apart from these aspects and surely due to our passion for designing volumes, technical advances in materials and their handling have opened a wide range for us to create countertops and wash with the same materials, not only in marble and other natural stones but also in porcelain and Solid Surface.
State of the art residential bathrooms
It is clear that all the technical advances mentioned will be gradually introduced into residential bathrooms more widely and not as exclusive elements. But if we are convinced of something, it is that the bathrooms in the homes are going to be expanded or transformed their functionalities in conjunction with a set of practices related to the physical and psychological well-being of their users. The bathroom is coming to be understood more and more widely as a space for self-care.
And those responsible are not going to be professionals in the design sector or construction, it is our daily practices, our ways of doing that have already been permanently installed in our bathrooms. A clear example is its connectivity. Everyone takes the phone to the bathroom and it is used as a distraction. They have replaced the old transistor that allowed you to control the clock and listen to music or the radio while you shower, shave or wax. In some cases, this replacement has come from the hand of voice assistants, so popular in recent years. The next step is surely to leave the phone outside the bathroom in sync with a "smart" mirror, which allows us to see messages, timelines or news while we are in the bathroom.
Bathrooms in a business: the surprise effect
The bathrooms fulfill a different function in each business and present very different aspects depending on the type of premises. Regardless of the regulatory restrictions that directly affect the dimensions, the bathroom of an office building shared by multiple different companies is not the same as that of a small restaurant, a cocktail bar or a studio. In the first case, a neutral aspect will predominate in the finishes that fit in with the business variety and functional and easy-to-clean elements of its elements due to their intensive use. In the second case, it opens the possibility of surprising its users with riskier finishes that are representative of a specific image of the company.
We usually translate the briefing of our clients into a set of adjectives that guide the definition of the project and its finishes in accordance and continuity.
In any case and without a doubt, the bathroom of a business is a very sensitive space and a common subject of comments by its visitors, so we consider that it is worth investing in good ideas and good materials in order to achieve bathrooms that fulfill their function in the best way and also try to add values ​​such as neatness, originality, sophistication and functionality.
Bathrooms, showers or wellness

If possible, all three. But if we have to choose one, whenever the budget and space allow it and in accordance with the idea of ​​a residential bathroom aimed at caring for oneself in the privacy of the home, we are left with wellness. We must confess that it is not the most common option in most of our projects, although the inclusion of a SPA bathroom, an acronym for health through the water in Latin, is significantly increasing and what was previously an exception now represents a constant for projects of a certain size. Either with the inclusion of elements in the main bathroom, such as saunas or whirlpools, or, of spaces for exclusive use, such as a hamam for one of our latest projects near Barcelona.
Between the shower and the bathtub, the spacious, two-seater showers are the absolute winners for practicality and comfort, both for individual and shared use.
Bathrooms in the COVID context
It is a sector that in recent years has not stopped evolving with continuous developments and this makes us think with great reactivity towards new demands. In this sense, it is to be expected that the current health emergency situation that implies an intensification of our hygienic routines will translate into news that until a few months ago were unthinkable. What is really difficult is to propose a disruptive product that changes our way of understanding a certain use, product or even our way of life, opening up previously unthinkable possibilities. The point is that the virus has changed our environment and it is the products that must best adapt to a changing crisis scenario. Perhaps products that previously did not have a prominent role now get it. We have seen it in supermarkets and pharmacies and it is to be expected that the same will happen in a space so related to hygiene such as bathrooms.
Think for example of the public toilets in a shopping center, or a restaurant. The ease of cleaning and disinfection will be an aspect to value. Automations that allow you not to have to touch anything, air renewal solutions, self-cleaning and disinfection. The order of priorities is altered in a context such as the current one and we are sure that we will witness numerous surprises, new protagonists and an undoubted redefinition of spaces for public or shared use.